The Summer Solstice, also known as Litha, Midsummer's Eve, or St. John's Day,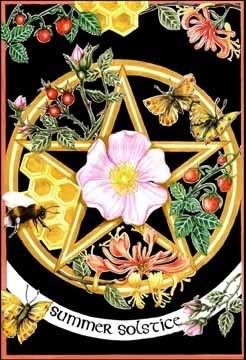 happens on the 21st of June. On that date we celebration of the longest day of the year and the beginning of summer. This is such a wonderful day, and for some reason it always fills me with new hope.
It has also been a time for Pagan tribes to gather, and we have been doing so for centuries. The Christian religion converted this day of "Jack-in-the-Green" to the "Feast of St. John the Baptist," often portraying him in rustic attire, sometimes with horns and cloven feet (like the Greek demigod Pan).
The Goddess manifests as Mother Earth and the God as the Sun King. Summer Solstice colours are blue, yellow, and green; this is a great excuse to once again change the colours in my home. It is a festival of folk, community, sharing, and a time to honour our planet and environment. Make a pledge to Mother Earth; promise to help improve the environment and to aid animals that are facing extinction! HomeFront staff will be planting trees in honour of our fallen, and we will also be getting involved and active in many Eco-friendly projects; watch out for updates in the next issue!
Agriculturally, our crops are in full growth. They are reaching maturity and coming closer to harvest time. A large percentage of wild herbs are fully mature by Midsummer and this is a traditional time for gathering magickal and medicinal plants to dry and store for winter use. We have stored many since last Midsummer and have used them for gift baskets to new mothers; this year we will focus more on medicinal plants.
In Wales, Midsummer is called "Gathering Day" in honour of this practice.
Traditional foods for the Summer Solstice are fresh fruits and vegetables; try to use organic fruits and veggies for your meals that day! !
Herbs and Flowers: Carnation, Daisy, Mugwort, Vervain, Wild Thyme, Chamomile, Rose, Honeysuckle, Lily, Oak, Ivy, Yarrow, Fern, Elder, and Lavender.
HomeFront