COURAGE OIL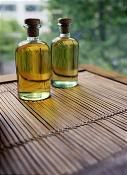 3 drops Ginger
1 drop Black Pepper
1 drop clove
Wear to increase your courage, especially before being introduced to people, prior to public speaking, & other nerve-wracking situations.
DEMETER OIL
3 drops Myrrh
2 drops Vetivert
1 drop Oakmoss Bouquet
Anoint to attract money & for the successful completion of your protections & dreams. Also wear when planting, tending, harvesting or working with herbs & plants to ensure a fruitful yield. Help us tune in with the energies of the Earth.
COME & SEE ME OIL
5 drops Patchouly
1 drop Cinnamon
To attract the ideal mate, mix these true essential oils in an olive oil base, smear on a white image candle of the appropriate sex and burn with visualization.
ENERGY OIL
4 drops Orange
2 drops Lime
1 drop Cardamom
Wear when feeling depleted, when ill, or just to strengthen your own energy reserves. Especially useful after heavy magickal ritual to recharge your bodily batteries.
FIRE OIL (elemental)
3 drops Ginger
2 drops Rosemary
1 drop Clove
1 drop Petitgrain
Wear to invoke the powers of Fire, such as energy, courage, strength, love, passion & so on.
GODDESS OIL
1/2 tsp dried yarrow 1/2 tsp dried sweet basil
1 tsp powdered myrrh
3 drops rose oil
3 drops lavender oil
1/2 cup olive oil
Place all ingredients in a clear glass jar & gently swirl in a clockwise direction. Keep in mind images of the Goddess & visualize Her divine power as an aura of white glowing light radiating from your hands into the jar of oil, charging it with magickal energy.
HEALING OIL
4 drops Rosemary
2 drops Juniper
1 drop Sandalwood
Wear to speed healing.
INITIATION OIL
3 drops Frankincense
3 drops Myrrh
1 drop Sandalwood
Use for mystic initiation ceremonies & also to increase your awareness of the spiritual realm
PSYCHIC OIL
5 drops Lemongrass
1 drop Yarrow
Wear to increase psychic powers, especially when working with rune stones, quartz crystal spheres & other such tools.
PURIFICATION OIL
4 drops Frankincense
3 drops Myrrh
1 drop Sandalwood
Add to the bath or wear to be rid of negativity
SABBAT OIL
3 drops Frankincense
2 drops Myrrh
2 drops Sandalwood
1 drop Orange
1 drop Lemon
Add to an olive oil base & wear to Wiccan Sabbats.
SLEEP OIL
2 drops Rose
1 drop Mace
Anoint the temples, neck, pulse of both wrists, soles of the feet. It brings on natural sleep.
SPIRIT OIL (elemental)
8 drops Sandalwood
8 drops Violet
5 drops Crocus
5 drops Gardenia
Spirit unifies all the other elements & is part of each of them. The realm of the Divine, of spirituality & of the unseen worlds & their many inhabitants.